Its Beginning to Look a Lot Like Christmas
At least it certainly is here at Clapham Preschool. As we enter the last week of term our staff and children are equally excited for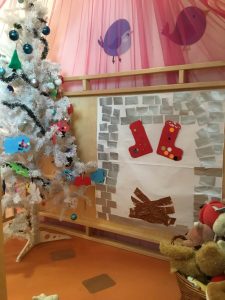 this year's festivities. Our December has been jam-packed with Christmas cheer kicking off on the 1st with our annual Clapham Preschool Christmas Fayre. In addition, the children have really enjoyed making their calendars, cards and practicing their songs for our performance this week. We have even set up a sleigh and a stable in the preschool for the children to play on.
Clapham Preschool Christmas Fayre
We would like to thank everyone who joined us at the start of the month for our Christmas Fayre. We had a very special visit from Father Christmas who set up a grotto to greet the children. The children got to meet Santa and his elves. This years Christmas Fayre was a great success we managed to raise a huge £760.00. As a non-profit organisation, we will invest this money back into the preschool facilities.
Clapham Preschool Christmas Lunch
The celebrations went on Friday with the Turkey lunch which was prepared for the children by our usual caterers. All our children enjoyed a Christmas themed hot lunch consisting of turkey, roast potatoes, vegetables and of course pigs in blankets.
What's Happening Today
As it is our final week of term and we finish for Christmas today we have arranged a party day for the children. Our party day is open to all of the children and there will be no fee to take part. We have a festive day including a sing song which the children have been practicing for all month. All parents are welcome to come and watch our mini concert. The Magic Elf will be here to entertain the children and we will be having party activities and craft making throughout the day. In addition to festive music and dancing with a party buffet lunch to refuel for more dancing. Finally, we give each child a party bag to take home.
Clapham Preschool Christmas Term
Today is the final day of term for this year the preschool will close for Christmas on 19Th December 2018. We will reopen 3rd January 2019 for business as usual. As we are currently on a temporary phone number please call 01234 341 200. Alternatively, you can message us via our website or Family App if you have any queries.
We wish you all a Merry Christmas and Happy New Year from all the team here at Clapham Preschool.